Three ways for Michigan men's basketball to regain momentum
Some big-time changes might be needed for Michigan men's basketball to get back on track.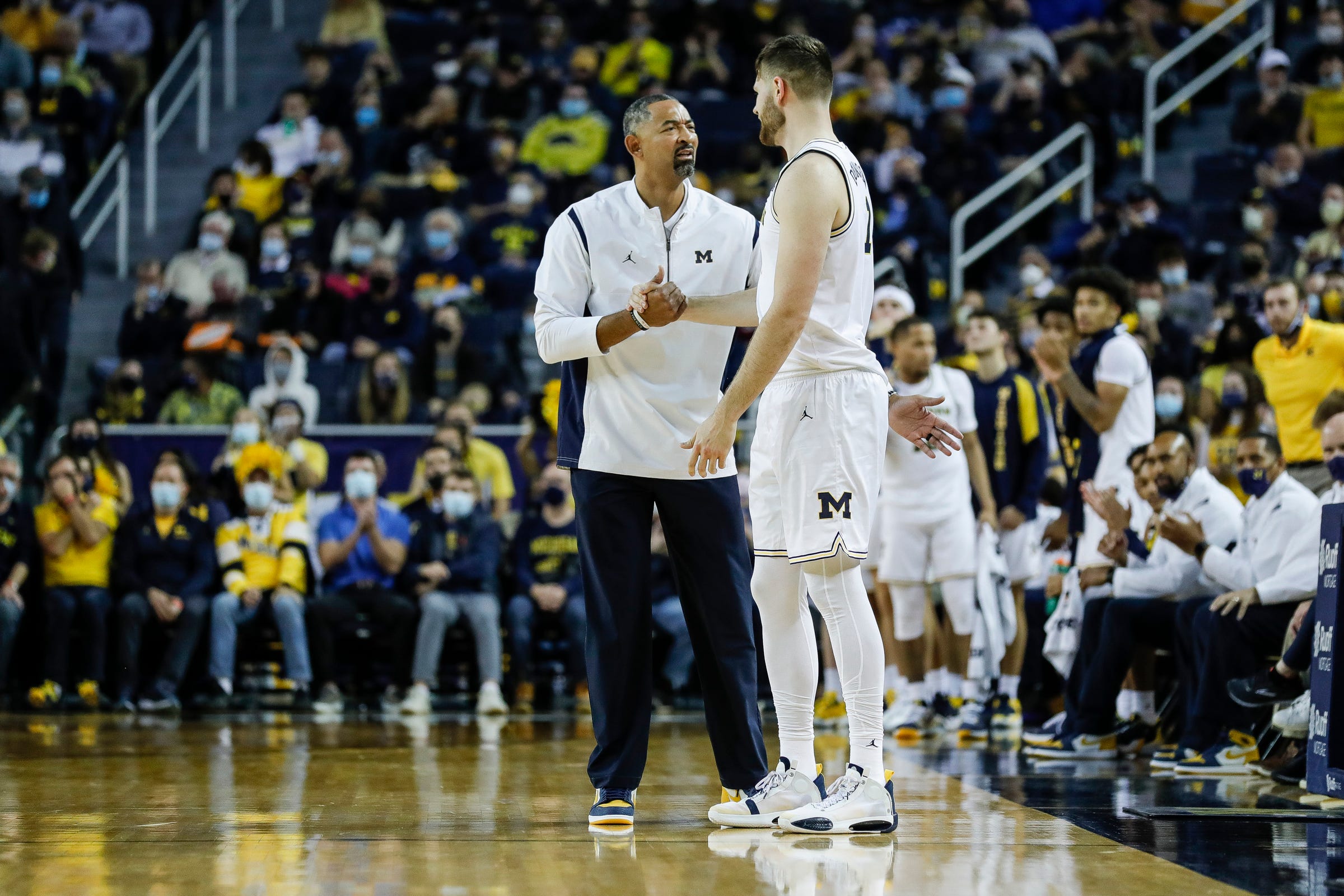 For whatever reason, Michigan men's basketball hasn't been able to find consistency so far this season. They'll go from winning a game by 35 points one week to scoring just 53 points the next. If Michigan wants to find some consistency, they'll need to find a winning strategy of some sort and find it soon.
Here are three potential changes the Wolverines could make that might improve their chances of winning going forward.
Space out Jace Howard and Terrance Williams II's minutes
I love watching both these men play for Michigan men's basketball, and this is not meant as a dig at either of them.
Both Jace Howard and Terrance Williams II play basketball with a passion that this Michigan men's basketball team needs in a significant way. In a sense, they represent everything college basketball is supposed to mean. It's all about the love of the game.
Still, with all that said, coach Juwan Howard should never have these two playing simultaneously on the court. They both serve as valuable pieces of the team, and both are captains, but they also do the same function in terms of how they play on the court.
Both could be better on offense. To say so isn't a breaking story, and most Michigan basketball fans are well aware of it at this point. On the year, Williams II and Howard are averaging 7.3 and 1.4 points per game respectively.
What they do bring to the team, however, is defense and rebounding. Not to mention, they both play a key leadership role on the team, one of the many reasons each was chosen as captain for this season.
Having as many stud defenders on the court as possible will always be a good idea. Still, if it creates a situation where you cannot score on offense, it might be time to make some changes.
While it isn't the sole reason for Michigan's inability to score their last outing versus Michigan State, it might be time for the Wolverines to look to make a change regarding who they have out on the court together.
Get Will Tschetter on the court
In a way, this one goes hand-in-hand with my last point. The more time Tschetter sees on the court, the less likely it is that Howard and Williams II will be on the court together.
It also helps, considering Tschetter is a much more offensive-oriented player. On the year, he averages around 6.5 minutes per game, and in those sparing minutes, he has found a way to average 2.1 points per game. He's making his shots around 41.2 percent of the time and is more than capable of hitting the occasional 3-pointer.
In a typical year, Tschetter would have been an excellent piece to have coming off the bench during blowouts, and he'd be in the running to have a breakout junior season the year following. Unfortunately for Michigan, this is no longer a typical year.
The Wolverines are struggling, and it's becoming abundantly clear that depth is the number one priority, considering how little there is.
Michigan men's basketball needs to improve its depth issue and create more spacing on the offensive side of the ball. Getting Will Tschetter on the court could be a brilliant way of making that happen.
Find a way to get Joey Baker in the starting lineup
Historically, Michigan men's basketball is at its best when they have an elite 3-point shooting specialist in the starting lineup.
During the 2020-21 season, Michigan had a slew of elite 3-point shooters, but none were better than senior star Isaiah Livers, who shot a whopping 43.1 percent from beyond the arc. What made that even more impressive was he shot around 5.0 3-pointers per game, 1.4 more than anyone else on the team. That year, the Wolverines would go on to compete in the NCAA Final Four.
Going back to the last time Michigan made it to the National Championship, during the 2017-18 season, players like Duncan Robinson and Mo Wagner had themselves breakout years beyond the arc. Robinson shot the ball behind the 3-point line 5 times per game and made around 38.4 percent, while Mo Wagner shot it 4.1 times, making 39.4 percent of his shots.
Now, you might be asking, who is that player for Michigan men's basketball in 2023? Look no further than former Duke Blue Devil Joey Baker. Baker is shooting an incredible 44.7 percent on the year.
The only problem with this is he's not on the court nearly enough and, in turn, can't shoot the ball anywhere near the rate he could. On the year, Baker is averaging 14.5 minutes per game and only hitting 2.5 3-pointers per game. With an increase in minutes, I could easily see an up-tic in the Wolverines' offense, and he would do wonders for spreading the court, allowing more space for Hunter Dickinson to do his thing down low.
Michigan and coach Howard want to win basketball games. The coaching staff is constantly thinking of new ways to help the team succeed, but if the Wolverines want to compete in the postseason this year, some significant changes will be needed.
Michigan men's basketball returns to action this Thursday, January 12, at 7:00 p.m. EST versus the Iowa Hawkeyes.
Michigan women's basketball moving on to the second round
Michigan and March just go hand-in-hand.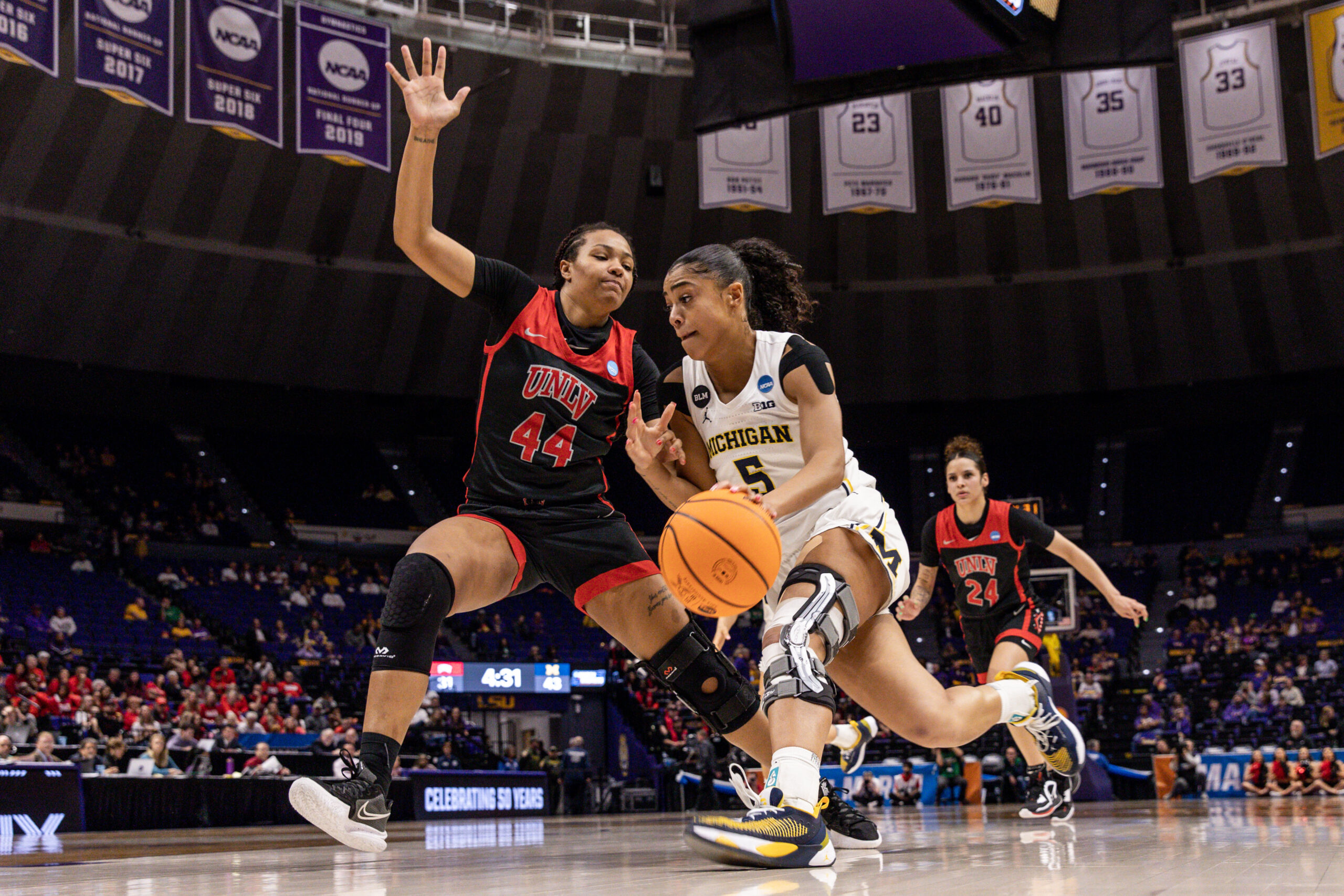 January, February, Michigan, April. It's officially the best time of the year as Michigan women's basketball heads to the annual March Madness in the NCAA Tournament. Following a cold streak to end the season this year, going 2-4 in their final six games, the Wolverines enter the tournament as a 6-seed.
In their first game, Michigan got paired up against UNLV, an 11-seed on a 22-game win streak heading into the tournament. Needless to say, the Rebels were hot and had all the confidence in the world, as they had not lost a game since mid-December. Still, that hot streak wasn't quite enough, as the Wolverines would go on to win the first-round matchup 71-59.
1st Quarter
It immediately became clear that this would be a physical game, with both teams not afraid to take a shot or two. After a few empty possessions in a row, Kiser got the scoring started with a deep 3-point shot. From here, the teams went back and forth, leading to a close initial battle.
Through bodies hitting the floor and whistles blowing, the physical first quarter led to a total of six personal fouls called through the first 10 minutes. The intensity was apparent right from the get-go.
While the game was close early on, with the score tied 7-7 just around 4 minutes into the match, Leigha Brown decided she'd had enough. Brown would go on to score four straight for the Wolverines, leading her team to make a run late in the first.
Michigan pulled away late in the quarter, entering the second leading 17-9.
2nd Quarter
Following a 12-2 run to close the 1st quarter, the scoring continued for the Wolverines as they put their foot on the gas. Michigan scored the first five points of the quarter, while senior guard Maddie Nolan scored five points by herself within the first minute and a half.
It also became apparent in this quarter that the UNLV Rebels could not compete with Michigan's height and length. The Wolverines implemented trapping into their defense, forcing the shorter UNLV guards into difficult positions, leading to plenty of turnovers.
If the Rebels didn't make a change fast, it was becoming clear that the game could be getting away from them soon, and that's precisely what they did. Making use of a full-court press and some open 3-point shots, UNLV would go on a 9-1 run, closing the gap to just 25-20 with a little over two minutes remaining in the half.
Still, despite the run, the Wolverines' defense, with six steals and two blocks, would take Michigan to the locker room ahead by eight points, leading 28-20.
3rd Quarter
To start the third, UNLV was prepped and ready to go, scoring in two straight possessions and forcing a turnover on the Wolverine's first possession of the quarter. It was clear that the shots were starting to fall, and Michigan was beginning to lose that controlling lead they found in the first half as it came as close as being a three-point game.
However, that's as close as it would get in the quarter as the Wolverines' senior presence began to shine with players like Leigha Brown, Maddie Nolan and Emily Kiser all making big play after big play en route to yet another Michigan women's basketball run, bringing the lead back up to 12 points within a matter of minutes.
To finish off the quarter, the physical nature of the game once again came to the forefront as personal fouls, and taped-up scratches became the focus. Still, through it all, Michigan took a strong 54-43 lead into the final quarter.
4th Quarter
Heading into the fourth quarter, it was important for Michigan to simply hold on to the lead and not allow UNLV to claw their way back into the game. Still, Maddie Nolan showed early on that it wouldn't be an issue, hitting a 3-point shot straight away, her fourth 3-pointer on the day.
If the Rebels wanted to make a comeback, it was important that their defense could shine and not allow the teams to trade baskets. Unfortunately for them, there are too many weapons on the Wolverines' offense, and coach Kim Barnes Arico and company were able to close out the game with relative ease. Michigan women's basketball would go on to take the game 71-59.
Overview
Ultimately, despite being a close game early on, Michigan women's basketball had a controlling lead for most of the game. The Wolverines' defense was elite throughout the game, forcing 14 turnovers and holding star UNLV forward Desi-Rae Young to just 11 points on the day.
Michigan's offense wasn't too shabby either, with star seniors Emily Kiser and Maddie Nolan leading the way with 18 points each. Guard Laila Phelia led the team in rebounds with 11, while guard Leigha Brown led in assists with seven on the day. It was a genuinely dominant showing from the Wolverines, and now, Michigan women's basketball has officially won at least one game in the NCAA Tournament five years in a row.
Looking Ahead
As is NCAA Tournament tradition, things only get more challenging the deeper you get into March Madness. Looking toward the future, Michigan prepares to faceoff against either LSU or Hawaii in the second-round, who are set to play each other today at 5:30 p.m. EST.
LSU is by far the favorite to move forward in the tournament, as the Tigers out of Baton Rouge, LA have lost just two games all year. The fact they find themselves as a 3-seed is almost criminal, as LSU has proven to be one of the best teams in the country all season long. While you have to beat the best to be the best, I'm sure Michigan fans wouldn't mind watching the Rainbow Wahines upset the Tigers in tonight's matchup.
Still, no matter who the Wolverines play in the next round, it's important they bring their A-game as it is March and anything can happen. The Wolverines are set to play again this Sunday, March 19, 2023.
---
---
Thank you for reading Blue by Ninety. For more Michigan Athletics content from Blue by Ninety, follow us on Twitter, Facebook, and Instagram. You can also subscribe to our YouTube Channel. For feedback, questions, concerns, or to apply for a writing position, please email our Managing Editor at Cj@BluebyNinety.com. Also, be sure to check out our shop and our podcast, which is available on Apple Podcasts, Spotify, and all other steaming platforms. It is because of your support that we have become one of the fastest and most influential Michigan media outlets there is!
Michigan basketball draws Toledo in the NIT first round
Michigan basketball isn't done yet as they get set to face Toledo in the NIT.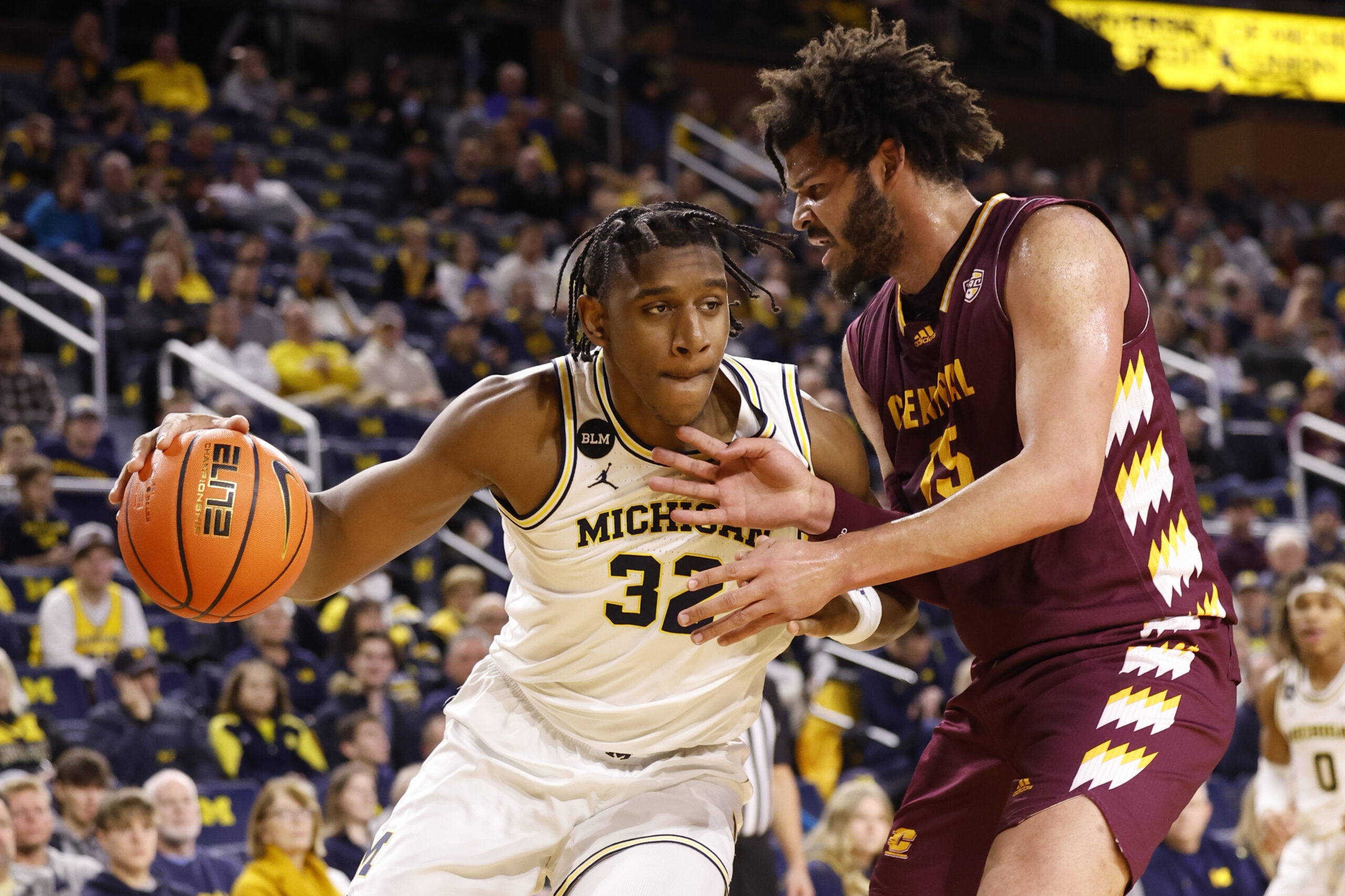 With 'Selection Sunday' come and gone, what every Wolverine fan already knew has become official. Michigan basketball will miss the NCAA tournament for the first time since 2015. This is undoubtedly a disappointing way for the 2022-23 season to finish for fans, but it should not surprise anyone.
Going into last weekend's Big Ten tournament, most knew that the Wolverines needed to win, or at least make a deep run, to make the field of 68. Those hopes were dashed rather quickly, as Michigan fell swiftly and in embarrassing fashion to the Rutgers Scarlet Knights in the opening round, 62-50.
Now, many questions arise over the direction of the men's basketball program, primarily regarding where exactly it goes from here. Wolverine fans didn't have to wait long to find out, as it was announced late Sunday night that Michigan would be a No. 3 seed in the NIT tournament and face the MAC conference regular season champions, the Rockets of Toledo. The opening round game will tip-off Tuesday at 7 p.m. EST at the Crisler Center in Ann Arbor.
A look at the Rockets
The Toledo Rockets will head into the NIT tournament undeniably disappointed and ready to win after missing out on what could have been their first NCAA tournament appearance since 1980. After tearing through the MAC regular season with an impressive 16-2 record, Toledo lost their automatic bid to Kent State in the MAC tournament championship game, 93-78.
This loss came after winning 17 straight games, going back to early January. Interestingly enough, the Rockets' last loss before the MAC tournament also came against Kent State, in a 75-63 decision in Kent, OH. The only other MAC opponent to beat the Rockets came against Ball State in the conference opener.
Toledo went 9-4 in their non-conference slate, including impressive wins over UAB (25-9), Northern Kentucky (22-12), who just won the Horizon League tournament and punched their ticket to 'March Madness' for just the third time in school history, and Vermont (23-10), who will also be joining NKU in the NCAA tournament after winning the American East conference regular season and tournament.
Michigan basketball and Toledo shared one common opponent on the season, Central Michigan, who likely cost the Wolverines an at-large bid with their stunning upset in Ann Arbor earlier this year. Toledo handled their business against the Chippewas this season, winning both matchups by comfortable, twenty-plus point margins.
Offense a-plenty
Michigan basketball will be tasked with facing one of the most potent offenses in the nation, as they average a whopping 85.7 points per game this season, good for second behind only Gonzaga. With all that scoring, it's unsurprising that Toledo shoots the ball well, as they rank 4th in the nation in total field goal percentage shooting 49.6 percent on the year. Even more impressively, the Rockets shot 40.5 percent from three-point range, which is good for second in the country.
Toledo is led in scoring by senior guard Rayj Dennis (19.8 points per game), to go along with three other double-digit scorers: Setric Millner (16.2), JT Shumate (16.1) and Dante Maddux (11.4). The offense doesn't stop there, though, as Tyler Cochran (9.6) and Ra'Heim Moss (8.3) are also close to the mark. Millner leads the team in rebounding (5.9 per game), while Dennis tops the team in assists (5.7).
Defense not so much
For as good as the offense is, the flip side of that coin, and what ultimately kept them out of the 'Big Dance,' is Toledo's defense, which ranks an abysmal 321st in the nation in scoring, giving up 76.1 points per game. Toledo also doesn't rebound the basketball efficiently, as they currently rank 202nd in the country with just 34.5 rebounds per game. To go along with the poor effort on the glass, the Rockets turn the ball over 9.7 times per game, ranking 8th in the nation.
The Rockets will also face a considerable size deficit, as no significant contributor stands taller than 6-foot-7 (Shumate). One key to a Michigan basketball victory could come down low in the post, as Hunter Dickinson (7-foot-1) and Tarris Reed Jr. (6-foot-10) should have plenty of opportunities to dominate the Rockets' smaller lineup. This isn't to say Toledo has no height at all, as AJ Edu (6-foot-10) and Andre Lorrentsson (6-foot-8) could match up well with Michigan bigs, but neither average more than 12.2 minutes, or 2.7 points per game.
Altogether, the game will be a decently tough matchup for the Wolverines, which may surprise some considering it's the first round of the NIT. Still, it's by no means an unwinnable game for Michigan, especially being at home in the Crisler Center. At home, the Wolverines posted a 13-5 record this season and only have two losses this calendar year, both to tournament teams (Purdue and Indiana).
A little history
Michigan basketball has faced the Toledo Rockets thirteen times in school history but boasts a disappointing 7-6 record against them. To be fair, the Wolverines are a much better 3-0 since 1980, and three of the losses came pre-1970 (1968, 1950, 1948). Michigan won the only matchup since 1984, a 91-71 final during the 2020-'21 season.
The Rockets have appeared in 10 NIT tournaments but will be looking to win their first game since 2001. Michigan, meanwhile, has appeared in 11 NIT tournaments and won three (1984, 1997, 2004), although the 1997 title was vacated due to NCAA sanctions.
The game also adds a bit of a 'revenge factor' for Michigan football fans, as many undoubtedly remember Toledo handing the Wolverines their worst loss in modern school history. It was a woeful 13-10 final at 'The Big House' in Rich Rodriguez's first season in 2008. This is still the football team's lone loss to a MAC opponent ever.
---
---
Thank you for reading Blue by Ninety. For more Michigan Athletics content from Blue by Ninety, follow us on Twitter, Facebook, and Instagram. You can also subscribe to our YouTube Channel. For feedback, questions, concerns, or to apply for a writing position, please email our Managing Editor at Cj@BluebyNinety.com. Also, be sure to check out our shop and our podcast, which is available on Apple Podcasts, Spotify, and all other steaming platforms. It is because of your support that we have become one of the fastest and most influential Michigan media outlets there is!
Tom Izzo quotes Bo Schembechler on Michigan State's Senior Day
During the Spartans' senior day, Michigan State head coach Tom Izzo quoted the late Bo Schmbechler.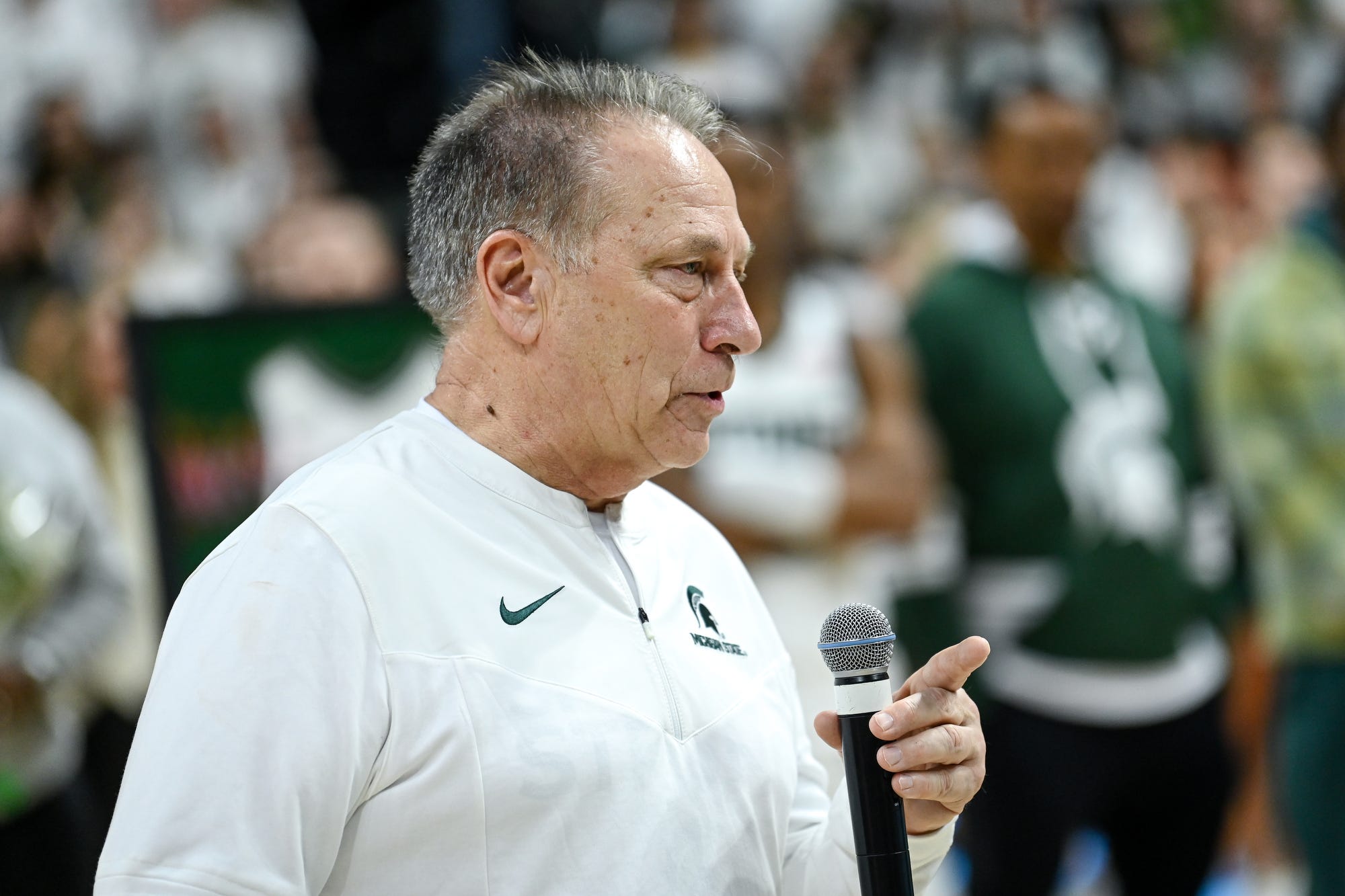 On Saturday, the Michigan State Spartans' men's basketball team faced off against the Ohio State Buckeyes in their final home game of the season. Michigan State went on to win 84-78 over the Buckeyes and improved to 19-11 ahead of this week's Big Ten tournament. During Michigan State's senior day, Spartan legend and head coach Tom Izzo had the chance to speak, and turned heads by quoting the late Michigan football coach Bo Schembechler.
Tom Izzo quotes Michigan coach Bo Schembechler
From 1969-1989, the Michigan Wolverines' football team was coached by Bo Schembechler. Bo is known for shaping the identity of the Wolverines' program, though recent allegations against him covering up sexual abuse at UM are a dark mark on his otherwise impressive coaching resume. During his time in Ann Arbor, Schembechler won 194 of his 247 games, claiming 13 Big Ten titles during his 21 years on Michigan's sideline.
Considering Tom Izzo is a Michigan State legend himself, it was odd hearing him (reluctantly) quote Bo Schembechler.
What did Izzo have to say?
Here is Tom Izzo's quote:
"There's a process to this whole thing," Izzo said. "Sometimes it takes longer than others but, I guess it was Bo Schembechler – I hate to say it – but 'Those Who Stay Will Be Champions'."
It takes a bold or foolish man to quote any Michigan Man in East Lansing — especially on as big of a stage as we saw during Michigan State's Senior Day — though if anyone can (and did) get away with it, it would be Tom Izzo.
---
---
Thank you for reading Blue by Ninety. For more Michigan Athletics content from Blue by Ninety, follow us on Twitter, Facebook, and Instagram. You can also subscribe to our YouTube Channel. For feedback, questions, concerns, or to apply for a writing position, please email our Managing Editor at Cj@BluebyNinety.com. Also, be sure to check out our shop and our podcast, which is available on Apple Podcasts, Spotify, and all other steaming platforms. It is because of your support that we have become one of the fastest and most influential Michigan media outlets there is!