Special teams will look very different for Michigan football in 2023
Michigan special teams will have some new faces step into the spotlight this season.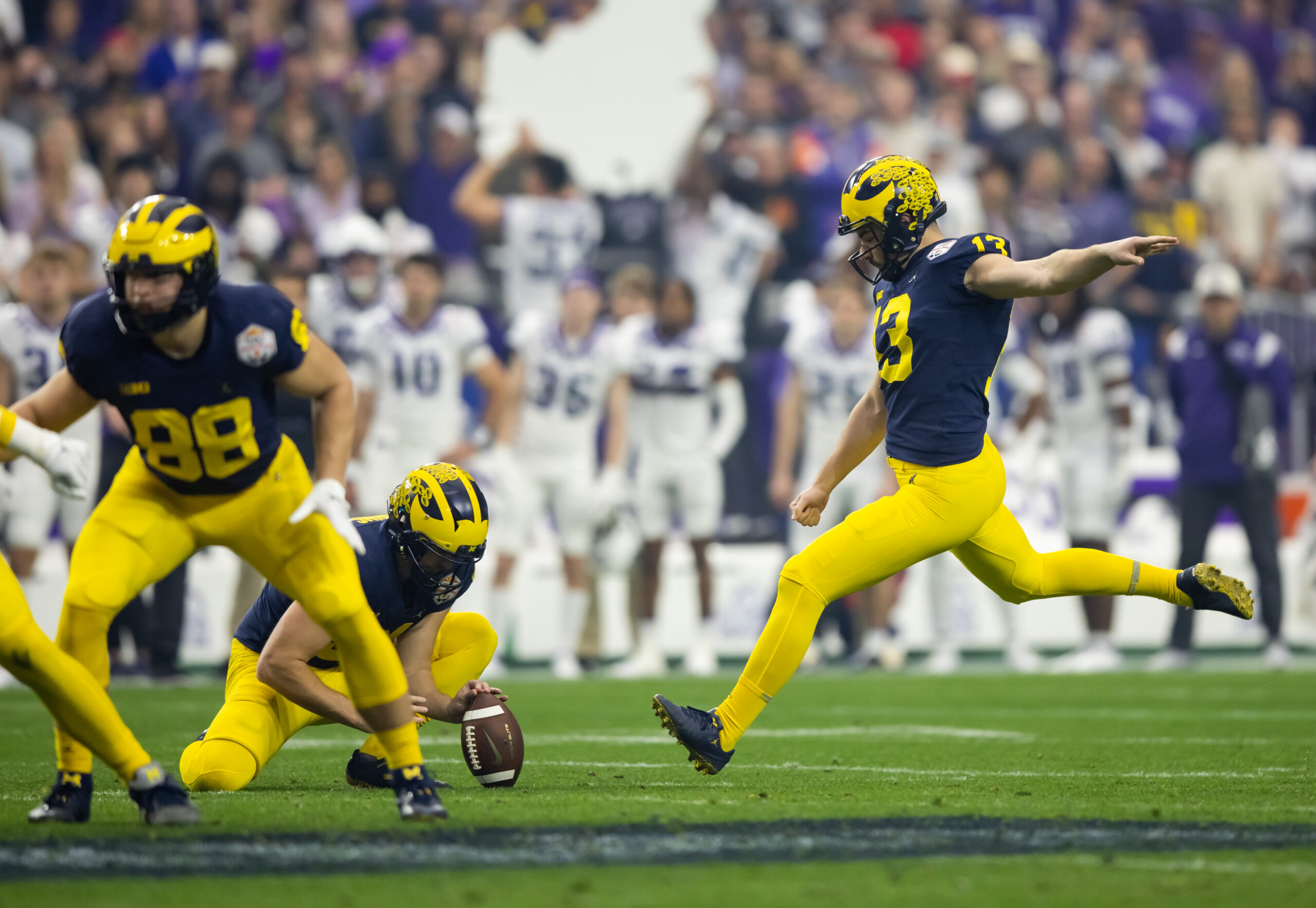 Michigan football has expectations through the roof going into the 2023 season. Just about every position has major contributors returning, and it certainly helps that coach Jim Harbaugh will officially make his return to Ann Arbor.
Possibly the only concern at hand falls on the special teams, as the Wolverines will look to replace All-American kicker Jake Moody and what may be the greatest mustache of all time with punter Brad Robbins. Both have been with the program since at least 2018 and have made an incredible impact over the years.
Key losses
We've hit the point where Michigan football is expected to be dominant on the special teams, and the 2022 season was no different in that regard. Assistant coach Jay Harbaugh has been a significant part of this, as he has worked with special teams since 2015 when he made his debut as a coach with the Wolverines.
The first critical loss for Michigan is Jake Moody, who has become a legend in Ann Arbor. Since his freshman year, he's been one of the most consistent parts of Michigan football, so consistent, in fact, that he's earned the nickname "Money Moody."
His nickname was fitting, as he was about as close to perfect as a kicker gets. When attempting a kick from 49 yards or closer, he was 65-for-74, good enough for 87.8 percent over his career. In 2022, his consistency continued as he went 26-for-28 (92.9 percent) within that same range. He was also perfect on extra points over his entire career.
While having a less pressured job than Moody, Brad Robbins has more than shown up when needed and might have sneakily been one of the most important players on Michigan's roster. Over his career, Robbins was a five-year letterman and three-time All-Big Ten honoree. He also finished No. 2 in career punting average, which is even more impressive considering he played 44 games during his six seasons with the program. In 2022, Robbins punted the ball 43 times for 1,818 yards, averaging 42.3 yards per punt.
On roster replacement
Let me say right off the bat, there is no replacing Jake Moody or Brad Robbins. Those men gave so much to this program; they will undoubtedly go down in history as Michigan football greats. Still, someone has to step in and kick some balls.
Tommy Doman is the primary option regarding who they have on the roster who could make a case. Doman will be going into his junior year in 2023, and he has yet to have many opportunities to show what he can do. This lack of opportunity, of course, is because Jake Moody was more than capable of handling kicking duties.
Still, what is he capable of, exactly? Doman appeared in four games this season as a sophomore and showed that he definitely has some upside. First, he's 6-foot-4, which might make him one of the tallest kickers I've ever seen in person. Coming out of high school, he was listed as the No. 2 punter out of the 2021 class per 247Sports Composite. He more than likely projects as a punter at the college game, but don't count him out as a kicker.
Doman made his college debut against Colorado State this past season in the Wolverines' home opener. He kicked the ball off twice and forced two touchbacks, showing that he has more than enough leg strength. He would appear in three more games throughout the season versus Hawaii, UConn and Nebraska.
It became clear early on that Harbaugh viewed Doman as someone who could be a big part of Michigan football special teams in the future. Those four games of experience could prove pivotal in his development, so don't be surprised if you see plenty of No. 19 in 2023.
Talented, yet unproven options
Adam Samaha will be the big name to watch in terms of new faces. The local star out of Ann Arbor Huron is listed as the No. 7 kicker in the class of 2023. He's also listed as the No. 33 player out of Michigan, per the 247Sports Composite.
He stands at just 6 feet, 170 pounds, so a year or two of college weight training could help immensely. Unfortunately, he may not have that extra year available, as kicker is one of the most prominent positions of need on this Michigan football roster heading into 2023. Still, he's been waiting for this moment, and he'll be excited to show what he can do. Samaha has not been shy about the fact that the University of Michigan has been a dream of his since he was a kid.
In his final two seasons at Huron, Samaha went 18-for-24 on field goals, with a long of 49. Despite his long being sub-50, he's got more than enough leg to make his case for playing time this coming season. Recently, he was recorded making a field goal from as far as 60 yards out.
No matter who gets the nod as Michigan's kicker or punter, the Wolverines have some fantastic options for next year, albeit unproven. If Doman and Samaha can continue to develop as players, Michigan's special teams should be in good hands now and into the future.
Thank you for reading Blue by Ninety. For more Michigan Athletics content from Blue by Ninety, follow us on Twitter, Facebook, and Instagram. You can also subscribe to our YouTube Channel. For feedback, questions, concerns, or to apply for a writing position, please email our Managing Editor at Cj@BluebyNinety.com or DM him on Twitter, @CJsWrld_.
Michigan basketball is back on the right track
Despite losing to Central Michigan last week, the Wolverines got back on track with a huge win over Maryland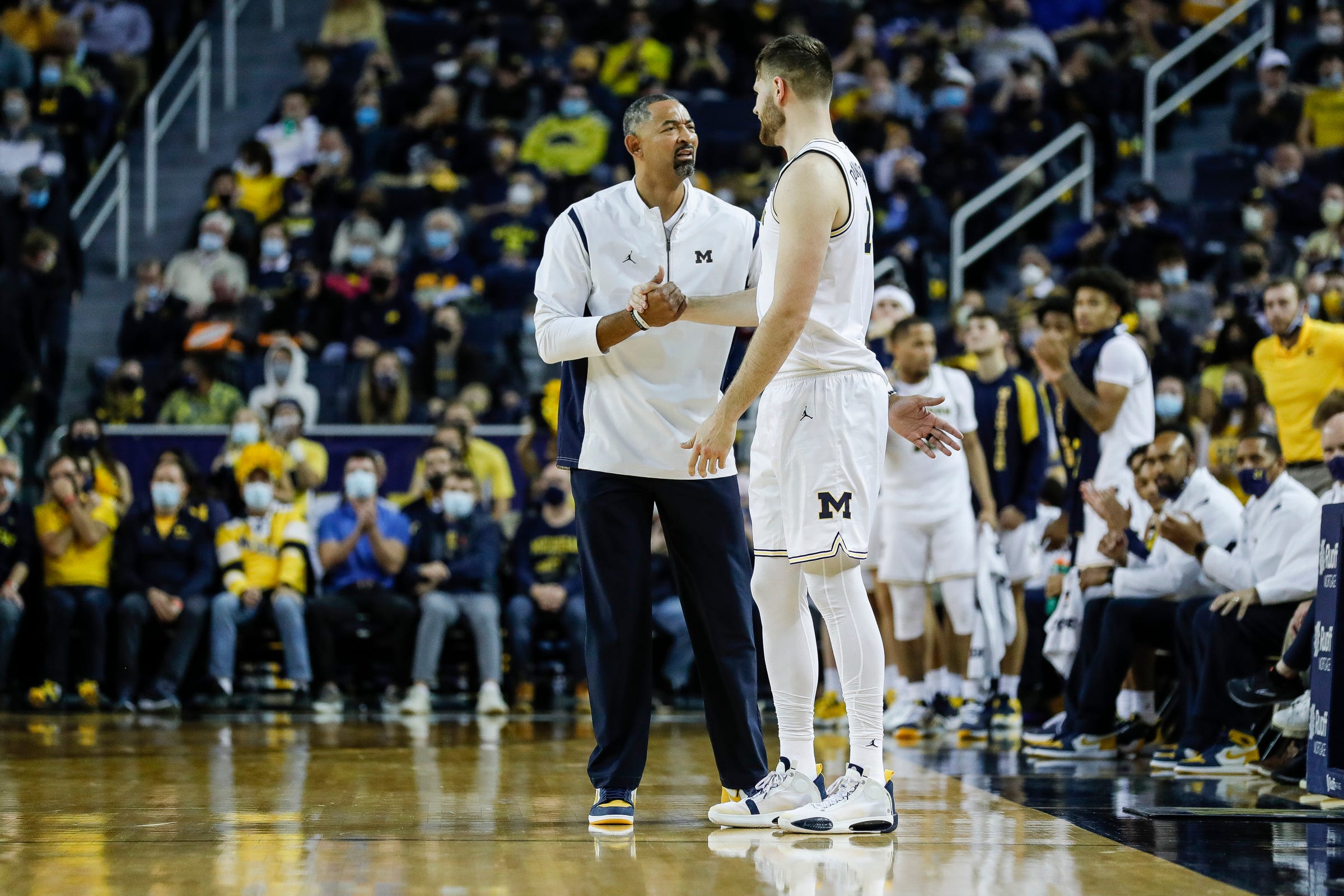 After years of up-and-down Michigan basketball under Juwan Howard, it appears as if the Wolverines have found their stride.
A rocky start for U-M hoops
Just as we saw a year ago, Michigan basketball has not gotten off to a great start thus far in 2022-23. The Wolverines began the year with a 4-0 record and a massive 91-60 win over Pitt. The night after Michigan's dominant showing against the Panthers, the Wolverines showed flashes of who they were a year ago in their blowout loss to Arizona State.
Since the ASU loss, Michigan basketball has also dropped games to Virginia, Kentucky, North Carolina, and most recently, Central Michigan.
Last weekend, Michigan basketball hit a new low in its 63-61 loss to CMU, an in-state MAC program. The Chippewas came into Crisler Center in Ann Arbor and handed Michigan its fifth loss of the year, which appeared to serve as a wake up call.
Michigan basketball wakes up vs. Maryland
Over the weekend, the Maryland Terrapins (10-4, 1-2 Big Ten) came into Crisler Center to face the struggling Wolverines. For some reason, the Central Michigan loss appears to have gotten Michigan focused up.
It's one thing to lose to top-ranked teams like Virginia, especially in a close battle. It's another to get embarrassed by a MAC school in your own building, and it appears that Michigan basketball took it personally.
Despite Maryland being a hot team right now and Michigan's recent struggles, the Wolverines looked unstoppable. Perhaps it is because the football team's season ended and, apparently, Michigan cannot have a good football and basketball team at the same time.
Regardless of the reasoning, the Wolverines won their 8th game of the season, 81-46 against a solid Maryland team. The win came on January 1st — the perfect way for Michigan basketball to kick off 2023.
Juwan Howard is now 5-1 against Maryland and has won five-straight against the Terps — his only loss was a road loss in March of 2020.
Michigan basketball must maintain this momentum
Going forward, the Wolverines need to keep this momentum going. So far, despite being 6-5 in non-conference play, Michigan is 2-0 in Big Ten play and sits atop the conference standings.
As the calendar changes to January, Michigan must run the gauntlet that is the Big Ten basketball schedule. The Wolverines' next five games are against Penn State (11-3), Michigan State (9-4), Iowa (8-6), Northwestern (10-3), and Maryland (10-4). The schedule does not get any easier from there, so the Wolverines must remain on their toes.
A lot can change throughout the course of a college basketball season, and as we saw last year, making the tournament is all that matters. If the Wolverines can sustain this momentum, Michigan will be just fine this year.